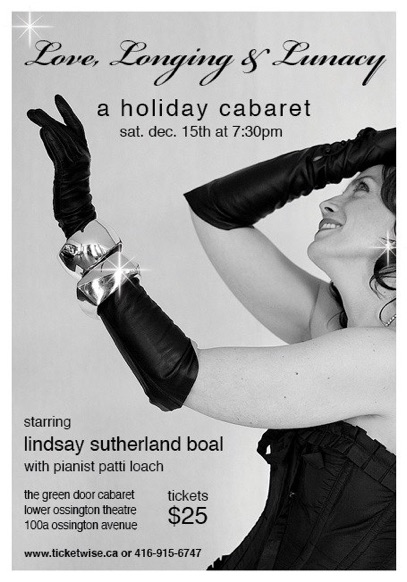 Love, Longing & Lunacy

"Lindsay Sutherland Boal and Patti Loach, two performers who know no fear, unite in Love, Longing and Lunacy: A Holiday Cabaret.  Robert Missen pegs the combination of Loach and Sutherland-Boal as 'sex and sizzle.' 

Bring your own mistletoe." Richard Ouzounian, Toronto Star, 11/28/12

On Saturday December 15th, 2012 singer Lindsay Sutherland Boal and pianist Patti Loach returned to the Green Door Cabaret's stage with a show for the holidays: Love, Longing and Lunacy. They were joined by special guest, John Loach, trumpet.

Among the show's highlights was a set where Boal - who's known for her commanding stage presence, zany sense of humour and expertise in German "Kabarett" - sang a trio of elegant Weimar Republic songs (including the classic Falling in Love Again) by Friedrich Hollaender.

She also performed a collection of Kurt Weill numbers that have been hilariously "re-imagined" by Toronto native Ray Jessel (no stranger to the Green Door Cabaret) and composer Robert Jason Brown, the latter of whom lends his unique touch to Surabaya Santa.  

Boal, Loach and trumpet player John Loach ended the evening with an exquisite arrangement of Thad Jones' A Child is Born, created especially for them by New York cabaret legend, Tex Arnold.

Love, Lunacy and Longing is a show for anyone who loves, yearns to be loved ...or feels slightly "loony" during the holiday season and is ready to laugh about it.

Listen to Lindsay Sutherland Boal and Patti Loach talk about the show

Click here to see a sample programme.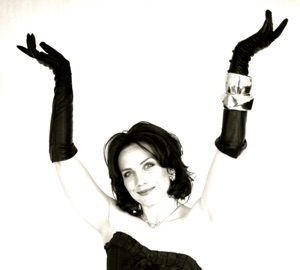 Lindsay Sutherland Boal, singer

Following several successful cabaret performances, Lindsay broadened her focus from traditional operatic rep to include the music of the Weimar Republic. This led to her one-woman, critically acclaimed and award-winning show, Purely Cabaret. Subsequently she was invited to perform at the International Cabaret Conference at Yale University where she was heard internationally on N.P.R. and on "Voice of America". In 2011 she headlined in A Little Nostalgia Cabaret, and sang the roles of Musetta in La Bohème and Anna in Seven Deadly Sins, all with Toronto's gritty Against the Grain theatre company. Most recently she performed with Rainer Hersch at the Royal Festival Hall in London, England.

"Lindsay Sutherland Boal cuts a commanding presence and is obviously comfortable in the cabaret repertoire as she purrs and sneers across the stage." Charlesbois Post

"Boal ... a cabaret femme fatale with a sense of humour" Lydia Perovic, Definitely Not The Opera

Patti has been playing the piano since she was six. In addition to loving classical music, she's mad for the American Songbook… and musical theatre, in general. Her recordings, "Carmen UnZipped" and "Pull Me Through", as well as her work in shows like "The Shopping Cart of Love" (with Patricia Zentilli), "The Picture of Happiness" (with Brad Hampton), and her shows with Lindsay Sutherland Boal reflect these passions. Patti has written five shows including the new "What Was I Saying?" as well as "Carmen UnZipped", which she has performed around the world with opera and cabaret diva, Jean Stilwell.

"Loach is a chameleon of the keyboard, playing brilliantly in so many different styles I sometimes feel she should be checked out for multiple personality disorder."  Richard Ouzounian, Toronto Star

"One more observation last night was on the quality of Loach's playing. This was show music rendered with a grace, subtlety and craft that could put many an art song or opera accompanist to shame."                               John Terauds, Musical Toronto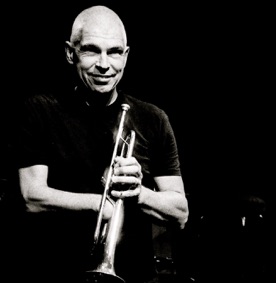 John Loach, trumpet

John wears many hats: recording engineer, web designer and jazz trumpet player.

He is a Mechanical Engineer who describes working in Zambia on an Engineers Without Borders project as one of his biggest challenges after retiring.

He is married to Patti Loach, who is crazy about him.

Composers

Love, Longing and Lunacy includes music from the worlds of classical and contemporary musical theatre and cabaret: songs by Jeff Blumenkrantz, Jerome Kern, Richard Rodgers, David Friedman, Friedrich Hollaender, Kurt Weill,

Ray Jessel, and Jason Robert Brown.

The show also includes an exquisite arrangement of Thad Jones' A Child is Born that was created especially

for Lindsay, Patti and John by New Yorker, Tex Arnold.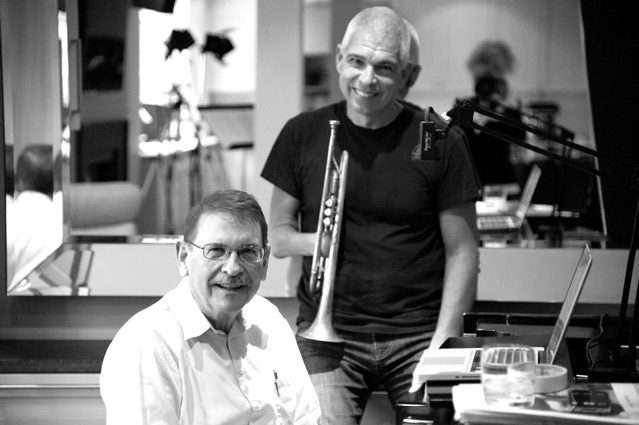 Tex Arnold with John Loach.
Love, Longing and Lunacy - performances

•12/15/12: Green Door Cabaret, Lower Ossington Theatre, 100A Lower Ossington, Toronto