Jean and Patti's shows: #2. CARMEN UNZIPPED (premiered October 2007, Toronto)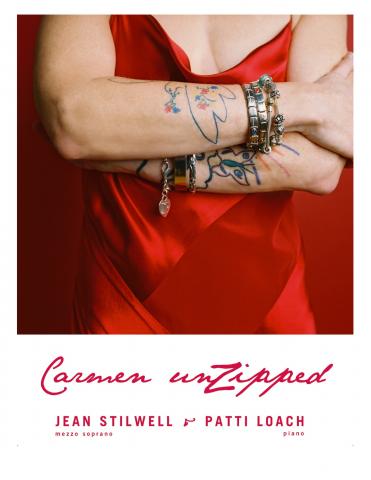 What happens when a strong-willed, passionate singer inhabits a sensual and powerful character with a ferocious hunger for freedom? This is Jean Stilwell's Carmen.
And yet in the two-woman show, "Carmen Unzipped", Stilwell steps out of the opera hall and onto the cabaret stage with all of her usual elegance, wit and aplomb. Along the way, she unzips our perceptions of how a diva should sound ... or look ... or behave.
"L'amour est un oiseau rebelle"
by Susan Brown
With utter honesty and disarming cheekiness, the singer and pianist-writer Patti Loach sing, play and laugh their way through a range of music that illuminates real life passions, delusions, loves and losses.
The songs come from sources as varied as a young cabaret song-writing team from Manhattan, "Marcy and Zina" to the hauntingly beautiful "Falling in Love Again" made famous by Marlene Dietrich. They range in emotion from poignant (check out Moose Charlap's rarely recorded "I Was Telling Him About You") to downright silly ("Taylor the Latte Boy"). The final song in the show is Stilwell's blisteringly hot version of Georges Bizet's Habanera from the opera, Carmen. This aria is a perennial encore favorite for Jean's audiences.

Duration 70 minutes, intermission optional
Creative Team

Jean Stilwell: Mezzo Soprano

Patti Loach: Pianist-Writer, based on the true life and misadventures of Jean Stilwell

Brad Hampton and Rae Ellen Bodie: Co-Directors


John Loach,

CD Recording Engineer, and guest artist - trumpet

David Bourque,

CD guest artist - clarinet

Amy Czettisch, Red Box Design

: Graphic Artwork for Posters and CDs:


Ian Brown:

CD and poster photography

Francine Labelle Ink:

Public Relations


Peter Martyn:

Photographer for the 2007 world premiere of Carmen UnZipped