Jean and Patti's shows: #5. WHAT WAS I SAYING? (premiered May 2012, Toronto)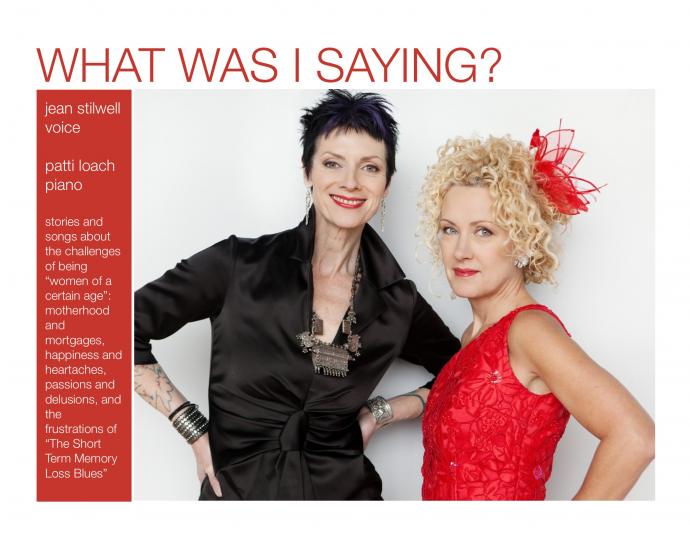 Photo by Cylla Von Tiedemann
In their newest show, "What Was I Saying?", pianist Patti Loach and Canada's most famous "Carmen" - Jean Stilwell - step once again into the intimacy of a cabaret room with all of their usual elegance, wit and aplomb.
WHAT WAS I SAYING?
by Gern Blanston
Jean and Patti - friends who are joined at the hip, musically - trade stories and perform songs about the challenges of being "women of a certain age": motherhood and mortgages, happiness and heartaches, real life passions and delusions, and the frustrations of The Short Term Memory Loss Blues.
The show includes songs by Stephen Sondheim, Kurt Weill, Irving Berlin, Georges Bizet, and the woman who is generally acknowledged to be Canada's finest composer/lyricist of musical theatre, Leslie Arden.
Jean Stilwell: mezzo soprano.
Patti Loach: pianist, writer, music director.
Guest artist: John Loach, trumpet.

Click here to see a sample programme.
Click here to see photos of recent performances of What Was I Saying?


Photo by Cylla Von Tiedemann
"These two women - Stilwell and Loach - not only know how to make music, they know how to connect with an audience." John Terauds, Toronto Star
Duration 60 -70 minutes, intermission optional.