Jean and Patti's shows: #3. NOT EXACTLY PARIS (premiered October 2010, France)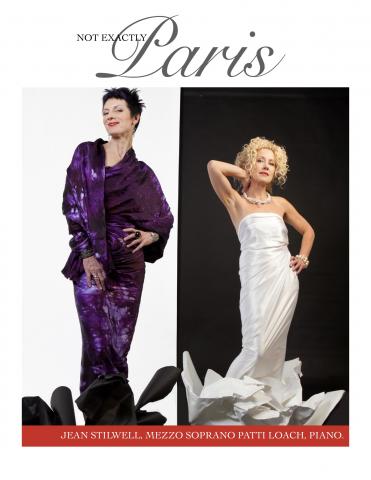 Photo by Cylla Von Tiedemann
The definition of the word "cabaret" is "a small room serving wine and providing entertainment". The very first cabaret was opened in Paris in 1881.
In their two-woman show "Not Exactly Paris", Jean and Patti deftly weave stories and music into an entertainment that features songs by the composers and singers whose names are indelibly linked with the city of Paris: Edith Piaf, Michel Legrand and Jacques Brel.

This "Fall-focused" programme reflects the changing of the seasons and includes the Mercer and Mancini classic "Autumn Leaves" as well the song from which the show's name is derived, Mickey Leonard's "Not Exactly Paris".

Jean and Patti also perform some terrifically funny songs which showcase Stilwell's zany sense of humour.

Duration 70 minutes, intermission optional.
sample programme
Once Upon A Summertime. Michel Legrand, Eddie Barclay, Johnny Mercer. Arrangement by John Harmon
Autumn Leaves/ When October Comes. Joseph Kosma, Johnny Mercer, Barry Manilow. Arrangement by Chris Marlowe & Nancy Lamott
It's Alright to Be Afraid. Arthur Hamilton, Mike Palter, Lynne Jackson. Arrangement by Mark Eisenman
Si Mes Vers Avaient des Ailes! Reynaldo Hahn, Victor Hugo
Hymne a l'Amour. Marguerite Monnot, Edith Piaf. Arrangement by Peter Tiefenbach & Patti Loach
Ne Me Quitte Pas. Jacques Brel. Arrangement by Peter Tiefenbach & Patti Loach
Beautiful Mistake. John Bucchino, Amanda McBroom
This Lullabye. Carole Welsman
On My Way To You. Michel Legrand, Alan and Marilyn Bergman. Arrangement by Chris Marlowe & Nancy Lamott
I Never Do Anything Twice. Stephen Sondheim
Not Exactly Paris. Mickey Leonard, Russell George. Arrangement by Mark Eisenman