What people in the audience are saying.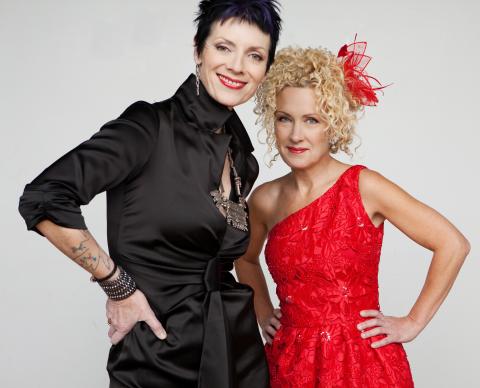 For a list of Press Quotes, click here.

What the audiences are saying ...

"We were sitting at one of the front tables having our hearts torn out, and being moved by your talent, your souls and your beauty. You two gorgeous artists, you were absolutely mesmerizing last night: fun, explosive, sensual and more!" Veronica Tennant.
"I was moved many times (your playing in an apron and what you said about that, and Jean's not giving up on finding the Right One are just two instances). Also I was surprised how well that housewife song works--even if Jean is so glamourous, she made it believable, almost angry in a Brechtian sort of way.... And need I tell you how insanely gorgeous you both are? No I don't, you heard it a million times. I hope the show gets expanded with more material. The confessional, biographical nature of it works. It left me wanting to know more (through song) about each of your lives -- and your peeves and angers and urgencies and joys and and and...." Lydia Perovic, October 12, 2012
"Taylor the Latte Boy and Apathetic Man were unexpected gems that insightfully captured the angst of a single woman living in the 21st century. And did it so well that I laughed out loud, much to the disgruntlement of those around me that came to listen to Jean and not to my cackle!" Prisca Campbell - Polarprisca Blog October 18, 2009
"Together the world's most sensual Carmen and most perfect pianist deserve to be heard far further than the shores of the lakes of Ontario ... this is a great musical treasure that you have shared and communicated ... the compelling power of your musical personality ... You struck at so many important moments in life, and expressed the whole range of emotions from to death, from love to hate, with sensitivity, humour, and the overwhelming sexuality of the most divine Carmen. The show is brilliant, but it is the performance that makes it. I want to hear it and see it again, soon." Gaynor Jones, critic
"Sublime spectacular moving intoxicating gorgeous funny poignant touching amazing truly unique original and you moved me and the entire room to tears and laughter and held us in your grasp, Jean. Patti was sublime. We all went to dinner and said how touching you two were. I could never tire of listening for hours." Rex Harrington, dancer, about Carmen UnZipped
"It was moving, funny, magical, witty, touching, sensitive and a joy. You both - together and individually - are beautiful and talented ". Rex Harrington, dancer, about Love and Life
"Thank you for last night! a spellbinding mesmeric extraordinary deeply moving evening of heart and soul and life and music. You touched us, each one of us, with depth of sorrow, humour, hope and despair - riveting and heartrending - I will never ever forget the magic of your evening. Never!" Veronica Tennant, dancer
"Thank you so much for Carmen UnZipped. It was such a treat and truly moving. You are such a treasure! I absolutely adored it!!!" Measha Brueggergosman, singer
"Carmen UnZipped is ... intimate, warm, sad, funny – with many sensitive musical turns. Vocally, Jean you were in spectacular form, showing that lustrous contralto that bears your Mom's lineage, the high tessituras open and exciting, and everything in between totally available to you for every nuanced syllable. Patti – you made that old Heintzman sing like I've never heard it. Did I say I was proud yet??" Wayne Strongman, Managing Artistic Director, Tapestry New Opera Works
"Jean Stilwell has a wonderful rich voice--exactly the kind of voice I like best. And though (obviously) she can sing opera, her renditions of non-operatic music don't create that embarrassing full-frontal-assault feeling that many opera singers can't help but generate. She made songs that I've heard many times sound as if they were written for her (not too shabby, considering she was up against, say, Marlene Dietrich!) I hope this doesn't sound stupid, but she also pronounces the words well, as if she is feeling the sense of the words. A surprising number of singers don't ... Taylor the Latte Boy is gloriously funny, especially with a clearly demented singer so full of conviction! PLEASE put the show on again!" M.J. Morris
"The show is brilliant and I could not be more pleased to have it as the opening for the cabaret series in June... You have done a brilliant job with the research and formatting of the piece and should be very proud of this new and most welcome gem." Sybil Walker, Toronto Downtown Jazz Festival
"I laughed and cried and time flew by because I couldn't focus on anything else, but you two stunning creatures. (*&^%, I'm gonna cry again, damnit!!!)" Juanita Sumner
"The Savoy on Victoria Street housed the highly anticipated return of the Cabaret Series. The opening night's Carmen Unzipped, a collaborative effort between famed Canadian mezzo-soprano Jean Stilwell and writer/pianist Patti Loach, was pitch perfect. Written by Loach and based on Stilwell's life, Carmen Unzipped reveals the inner voice of an opera diva extraordinaire. Songs included the well-known 'La Vie en Rose' and 'Falling in Love Again' plus new material such as 'Taylor the Latte Boy', featuring a hilarious cameo appearance by the dashing Rex Harrington. Generating genuine laughter and tears, Stilwell was spectacular and Loach ever-so-sensitive. Carmen Unzipped is an unforgettable cabaret show which is also available on CD." Ori Dagan, The Epoch Times
"What a great singer Jean is, and Patti Loach is a singer's dream!!! What a sensitive, dynamic player she is, an outstanding accompanist (and so much more!!!)" Dagmar Hindrichs
"I really loved the songs: they're great, they're interesting. As a musician myself, they're not the songs I hear a lot... they were new to me and I loved the selections. They were very intelligent and very reflective of your personalities and your friendship... there was just a beautiful honest presentation, and a very artistic one." Maureen Kennedy, jazz vocalist
"It is really wonderful to see two musical ladies so in tune with each other. Jean has such an amazing presence --- WOW!!! We're still talking about it." Arlene Smith, jazz vocalist
"It is one of the best nights out that we have had! I felt like laying my head on the table top and sobbing, and in the next moment strutting my stuff and exulting. Both Jean and yourself are an inspiration. Thanks for a better than great evening." Nancy Zboch, artist
"Mesmerized. Inspired. Motivated. Totally moved to tears. The song for your mother crushed me!!! Your humour, your emotion, your transparency were so inspiring to me. Thank you for such a gift! Once again, thank you for having the courage to communicate - from the heart!" Daniela Nardi, vocalist
"Thank you, thank you, thank you - to every one of you (Rex Harrington, Bob Hope, Jean Stilwell and Patti Loach) for the show you put on. Everyone is still buzzing about it, and the word is now out on the street what an incredible evening this was... You touched a lot of hearts that night." Shirley Elias, artist, Executive Director of the Manitoba Conservatory of Arts and Music
"Jean, looking like she was channelling Audrey Hepburn "takin' a walk on the wild side". All in all - a moving, lovely, FUNNY performance. What the hell ... BRAVISSIMA, already!" Tammy Smith
"Patti, Jean and John were such a hit with our guests last night!!! We have received so many congratulations and words about how wonderful their act was that I can't keep count of them!!!! The hairs on my neck stood up when Jean did the aria from CARMEN at the end of the act. I will remember her singing for a long time to come." Barbara Mitchell, Co-President, The Women's Art Association of Canada
"Anyone who has experienced the ferocity of Ms. Stilwell's Carmen will find it no surprise that she succeeds so well as a 'cross-over artist' mining the cabaret repertoire. In her hands, the subjects of the love songs of John Bucchino or Marcy Heisler and Zina Goldrich became the musical offspring of Bizet's tragic heroine. In Patti Loach, Jean Stilwell has found a worthy co-conspirator whose strong support at the keyboard matches the singer in pathos and humour. Loach must also be given credit for the wonderful arc of this evening which owes much to her discovery of such compelling songs, as well as her talents as a writer and arranger. The listeners in Saskatoon were spell-bound. Jean Stilwell and Patti Loach quickly took hold of their heart-strings and never let go. Tom Hengen thanked me again last night for bringing you two to Saskatoon - he said it saved him the cost of two tickets to Paris or Berlin." Bruce Garman, Saskatoon Opera
"Patti and Jean are great together. It's evident that they have a great respect for each other and a caring friendship. They complement one another in your performance, the way they interact with each other, and visually in their appearance. Their love for what they do and the music is obvious to the listener, which I think is some of what they want to share with their audience. For me, that was one of the best parts of the performance. Jean is a woman who feels. Her voice awakens the mind. Then, her eyes connect you to her heart." Michael Shunock